Dr Wendy's Blog
Through Dr Wendy's blog I aim to provide helpful and informative posts that add to the personal and professional lives of my readers.
With over 30 years as a health professional (clinical, education and research), I have a strong interest in better education and training for all people working with people. I'm passionate about things like Professional Boundaries, Nursing, Training, Professional Supervision, links between childhood trauma and mental illness and workplace bullying. I've been training in Psychodrama for over 20 years  – some might say a life-long learning – and I'm committed to using experiential learning in the work I do with individuals and groups.
I also have the great honour of being invited to regularly present and facilitate at national & international conferences on the topics of boundaries, bullying and mental health in the workplace.
I hope that you'll take a few moments to see what I have to say, and I encourage you to respond with your comments. I'd love to hear your opinions and insights on the topics I discuss here, to have you a part of this conversation…
To read a post, click on either the title of the post, or the 'more' link at the end of an entry below.
If you'd like to subscribe to our blog feed, click the RSS icon here to receive our entries in your feed reader: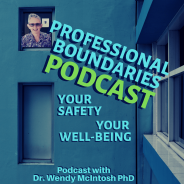 Podcast: Play in new window | Download (Duration: 0:30 — 325.2KB)
Subscribe: Apple Podcasts | Google Podcasts | Spotify | TuneIn
Professional Boundaries: Your safety, your well-being
Available 25th November, 2019
In the Professional Boundaries Podcast, Dr. Wendy McIntosh PhD from Davaar Consultancy shares insights and strategies about developing and maintaining professional boundaries. Using examples from her own experience, Wendy will describe and explain Professional Boundaries for anyone in a public-facing job or role.
There are 6 episodes planned in this first season of the Professional Boundaries Podcast and we hope you'll enjoy and learn from each of them.
Dr. Wendy McIntosh welcomes both your interest, and curiosity. Send Wendy questions at wendy@davaar.com.au
Professional Boundaries are not limited to the clinical or therapeutic arena. If you are in a professional role – a teacher, support worker, police officer, a prison officer, council worker, hairdresser. If you are a volunteer or belong to a theatre group, a choir, a sports club, there will be something in this podcast for you and the relationships you have with others. Setting boundaries in our life is necessary for our emotional, psychological, spiritual and physical well being. Setting boundaries is about our safety.
Since 2005 Wendy has been developing her knowledge and interest in the area of professional boundaries. Wendy delivers workshops on boundaries in Australia (where she now lives) and Internationally when invited to do so. She is continually integrating learning and insights she gains from the work she does in professional boundaries. Wendy comes from a nursing, and predominately psychiatric nursing, background. Wendy consistently receives feedback on her passion, knowledge, and creativity as a presenter and facilitator. Enjoy exploring boundaries in this podcast series as Wendy takes you on your own reflective journey on your professional boundaries.
Music from https://filmmusic.io
"Kool Kats" by Kevin MacLeod (https://incompetech.com)
License: CC BY (http://creativecommons.org/licenses/by/4.0/) &
"Long Road Ahead" by Kevin MacLeod (https://incompetech.com)
License: CC BY (http://creativecommons.org/licenses/by/4.0/)