Self-Directed Training -Online Professional Ethics Training
Come take a look at our brand new online Professional Ethical Decision Making training. It's dynamic, interactive, and fun… and we think you'll love it!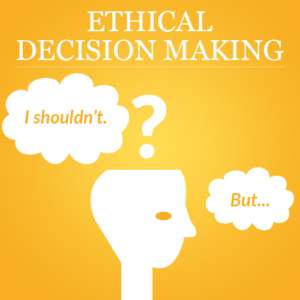 Our Ethical Decision Making course will deepen your understanding and appreciation of the importance of ethics in your profession. Through feedback and suggestions of clinicians who have experienced ethical dilemmas in their personal and professional experiences, this course invites you to reflect on your own practice.
This Professional Ethics Training course benefits professionals, managers and administrative staff working in health, education, safety, and customer service fields.
Certification is available upon successful completion and attracts 10 CNE/CPD points where applicable.
The online ethical decision making training includes:
References to recommended readings to complement and support content. These will be linked to a separate page so that you can read them as you go through the package.
Videos to provide examples of unit concepts that are intended to increase awareness of the complexities of ethical decision making. They should be used to stimulate reflection of your practice and the practice of colleagues, as well as provide a forum for discussion between colleagues.
Course Objectives
Demonstrate an understanding of factors that influence the decisions professionals make in their personal and professional roles.
Identify ways in which personal decisions/actions may affect/influence the professional role.
Identify how the public's perception of your profession may be affected by the decisions professionals take in their personal and professional life.
Demonstrate an understanding of the importance of professionals maintaining strong ethical, legal and moral positions in their personal and professional life.
Identify strategies that you can continue to implement, to assist in guiding your ethical and professional practice
.
Certification: Users register and complete all parts of the Professional Ethics Training, using the online lessons and included assessment. The user responds to questions posed in the final assessment, which are then sent electronically to Davaar Consultancy.  A certificate confirming successful completion and CNE/CPD points where applicable will be sent. Successful completion attracts 10 CNE/CPD points.
To see details and get immediate access to our online Professional Ethics Training, click the button below. The cost is AUD$220.00. Get started on your training today.
We ask that you do not share this information with others.
Organisations may purchase multi-user packages at a negotiated price – please contact Wendy@davaar.com.au for more information.
Cost: $220.00 per user (includes GST). Course details