Cutting in, Cutting Through: Working with Clients who Self Harm
The experience of self harm can create a number of tensions in individuals themselves, and in those with whom they have contact.  "Cutting in" to the skin is one of many actions of self harm which may be used by individuals. This workshop provides an opportunity to explore myths and realities about self harm thoughts and behaviours, and better ways to work with clients who self harm.
In this two day workshop participants will be given the opportunity to practice a number of interactive techniques that can be used to "cut through" to engage with individuals who self harm. Action methods will be used throughout the workshop to demonstrate the ways in which action does speak louder than words.
Themes explored in this workshop include:
Understanding the roles of self harm
Discussion of the multiple reasons for self harm
Understanding the interplay between the body's stress system and self harm
Reacting and responding to individuals who self harm – there is a difference
Exploring the language we use about self harm
Understanding the tensions in the interpersonal dynamics between self and other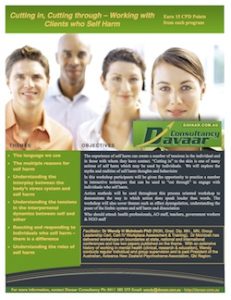 Download a PDF file with more information about this workshop by clicking on the image.
To register for a workshop, download our registration form from the foot of this page, find dates our calendar page, and send us your completed form with payment to the address listed.  Our workshop locations can be found at the bottom of all pages.