Podcast: Play in new window | Download (Duration: 45:41 — 26.0MB)
Subscribe: Apple Podcasts | Google Podcasts | Spotify | TuneIn
Episode 6 – Strategies to Set and to Repair Professional Boundaries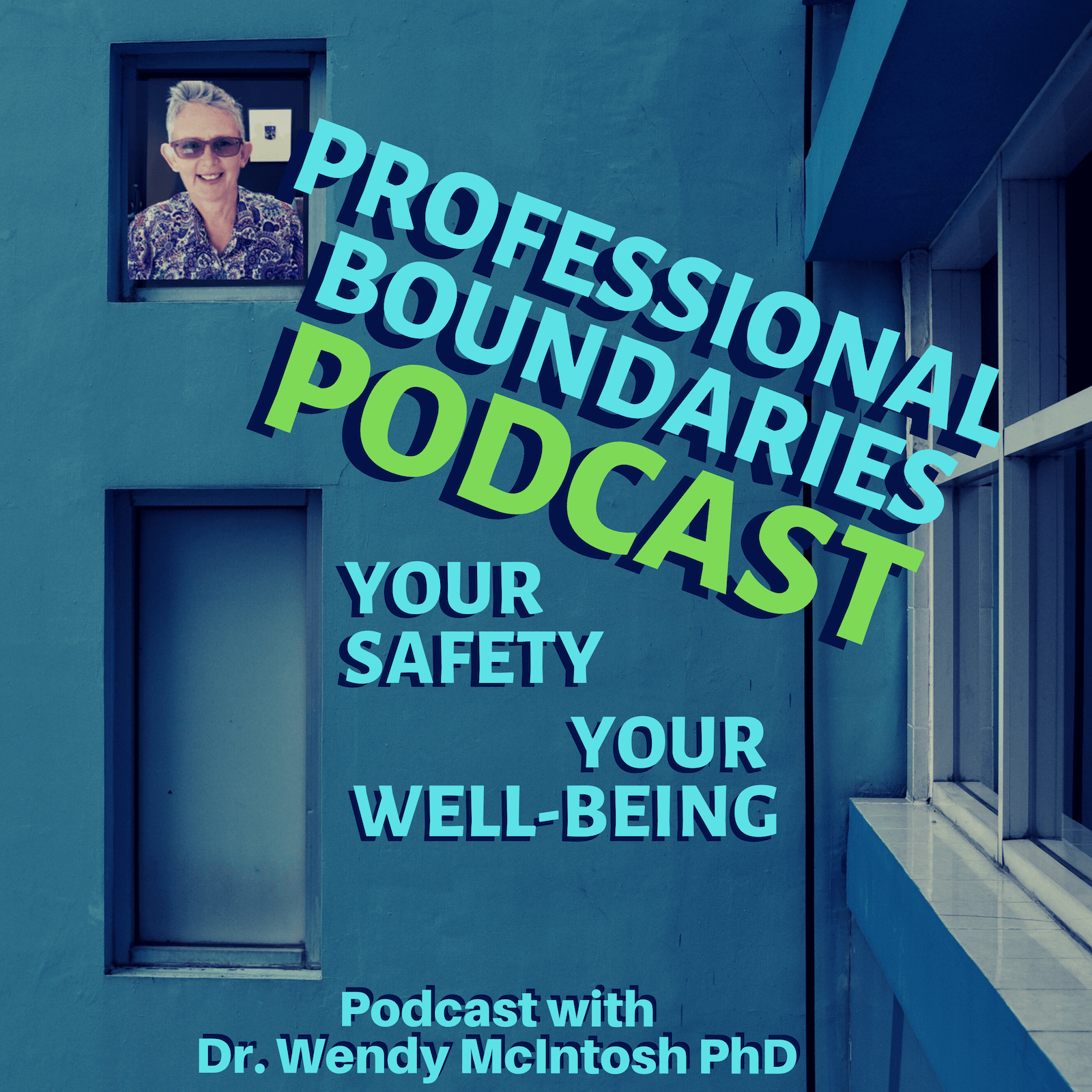 In Episode 6, Dr. Wendy McIntosh PhD, from Davaar Consultancy, shares a Professional Boundaries scenario set in a child care centre. Although the lure of becoming friendly with the parents of the children who are cared for each day is attractive, it can be a pattern that can be tricky to reverse.
Wendy describes steps to remedy this awkward situation and some hints on ways to help refocus the attention back on the customer and their child, rather than the staff member's family.  Also discussed are strategies for establishing better boundaries in collegial relationships, and how it's important that front office staff also exhibit a unified boundaries front.
This is the final episode of Season One,  and rounds up our first season of the Professional Boundaries Podcast. Use the links above to subscribe, or click the play button to listen. Get access to all episodes here.  Stay tuned for the Season Two, coming soon.
There are 6 episodes in this first season of the Professional Boundaries Podcast and we hope you'll both enjoy and learn from each of them. If you've ever wondered about your own boundaries in your Professional role, or been alerted about the risks of crossings or violations, this podcast will help you learn what to watch for, and ways to stay out the danger zones.
Dr. Wendy McIntosh welcomes both your interest and curiosity. Send Wendy questions at wendy@davaar.com.au or via Twitter, Instagram or Linked In
In this podcast series, Dr. Wendy McIntosh PhD shares insights and strategies about developing and maintaining professional boundaries. Professional Boundaries are not limited to the clinical or therapeutic arena. If you are in a professional role – a nurse, a teacher, support worker, doctor, police officer, a prison officer, council worker, healthcare worker, or hairdresser. If you are a volunteer or belong to a theatre group, a choir, a sports club, there will be something in this podcast for you and the relationships you have with others. Setting boundaries in our life is necessary for our emotional, psychological, spiritual and physical well being. Setting boundaries is about our safety.
Since 2005 Wendy has been developing her knowledge and interest in the area of professional boundaries. Wendy delivers workshops on boundaries in Australia (where she now lives) and Internationally when invited to do so. She is continually integrating learning and insights she gains from the work she does in professional boundaries. Wendy comes from a nursing, and predominately psychiatric nursing, background.
Wendy consistently receives feedback on her passion, knowledge, and creativity as a presenter and facilitator. Enjoy exploring boundaries in this podcast series as Wendy takes you on your own reflective journey on your professional boundaries.
References
Alaric Hutchinson – https://www.goodreads.com/quotes/tag/present-moment
Brooke Deterline – https://www.youtube.com/watch?v=wzicXbnmllc-
Adam Fraser – The third space – https://www.youtube.com/watch?v=dpk_dssZXqs
Cambridge Dictionary – https://dictionary.cambridge.org/dictionary/english/recalibrate
Music clips in this podcast:
"Arcadia" by Kevin McLeod (Found at http://incompetech.com) & Savannah Sketch"  " by Kevin McLeod (Found at http://incompetech.com)
License: CC 0 BY (http://creativecommons.org/licenses/by/3.0/)
Transcript: Podcast Six – Strategies for Setting and Repairing Boundaries
Scenario
She worked with children at a child care centre. She had been used to sharing details of her own family including information about her children with parents whose children attended the centre where she worked. Initially, she had thought nothing about this self-disclosure. She assessed that sharing information about herself and her children assisted the parents to feel comfortable about leaving their children in her care. However, she had become aware that she was uncomfortable about sharing such intimate information with some parents. Being curious about this, she started to question her actions. She read about professional boundaries and discussed questions she had about her self disclosure with friends.
With greater awareness and appreciation about boundaries, her concern grew about the patterns of interactions she had established in her relationships with the parents at the centre. She experienced increased discomfort with parents who would start each day asking her about her children. She realised that the focus had become about her and her children – the roles had reversed.
She wanted to create greater separation between her home and work. She wanted to be able to leave her children at home where they belonged not in her workplace. How could she protect them, when she had been so disclosing of their experiences growing up. She felt a pang of disquiet that she had transgressed her children's rights to confidentiality and privacy. She wondered what she could do to change her relationships with the parents. She was concerned that if she established boundaries on her self-disclosure that it could have a negative impact on the relationships she experienced with the parents. Perhaps even a negative impact on the centre.
How could she stop the patterns of conversation that were now so well established in the meet and greet each day?
Welcome to this Podcast series – Professional Boundaries, Your safety, your wellbeing.
I am Wendy McIntosh from Davaar Consultancy and I am delighted that you are joining me on another journey into the world of professional boundaries. This podcast series invites you to reflect on your Professional Boundaries and to appreciate how knowing the five foundation stones of boundaries can assist you in the everyday work that you do. This is our sixth episode and today I focus on strategies.
Strategies for you individually

Strategies when you witness or become aware that a colleague has – or is about to transgress a boundary

Strategies for organisations

This is a good time to remember the four foundation stones that we have discussed in previous episodes. Reminding ourselves that when we understand those four stones in relation to the context in which we work, then we already have some strategies at hand. The four foundation stones that we have previously discussed can be informative guides in our professional boundary journey.

Definitions (from episode 2)

Professional Boundary framework (including over and under involvement and categories of concern) (from episode 3)

Red Flags (from episode 4) and,

Reasons for transgressions (episode 5)
As I have stated on previous episodes I wanted the podcasts to be as interactive as possible and I have been inviting listeners to email me any questions, scenarios or reflections you have about boundaries. Thank you to those who give me scenarios to work with. I will continue to build them into episodes we produce.
Keep your interactions coming and if you have any feedback that you want to put up on the various sites where you can access our podcast we would love you to do so. Contact details for ongoing discussions or questions with me are given at the end of this episode.
Keep putting the word out about the podcasts to your colleagues, peers, family and friends. We are delighted that as well as our growing numbers of listeners in Australia, we welcome listeners from Europe, USA, Jamaica, Tanzania and South Africa. Brilliant. I am appreciating that the theme of professional boundaries is pertinent no matter where in the world we work. Whilst contexts will vary – professional boundary themes resonate no matter the country, the profession, or the organisation.
This episode introduced a scenario that is common for participants who attend my workshops. With knowledge, awareness and insight about patterns of behaviour and potential risks of those patterns, participants are keen to change the interactions in the relationships they have with clients, colleagues, or family members of clients. The area of self-disclosure and how to adjust that especially in longer-term professional relationships is worthy of exploring. As always any enquiry about a potential or actual transgression leads with my four boundary questions. Remember them?
What was/is the intent or the purpose of the action / the content of the speech?

Whose needs are/were being met?

Were/are there other options available? (Generally, there will be a minimum of five options for each event)

And the question I believe is essential – what stopped the person using another option?
For this episode, we are going to get back into the car for a journey like we did in episode three when we discussed the boundary framework. So buckle up safely. Get comfortable and enjoy the learning. Remember if you have any questions, reflections or stories you want to share – don't be a back seat driver – come up front with me and yarn.
There are three main billboards ahead – Strategies for self, Strategies for colleagues, Organisational strategies. Many of the strategies presented in this episode come from the data I collect at the end of each workshop on boundaries. Consistent strategies emerge no matter the organisation or professional group that I work with. The strategies are consistent with articles written on professional boundaries. The strategies are consistent with those identified by participants who complete our internet tool on boundaries.
We are going to stop at all three billboards and take time to absorb what they have to tell us, let us start with strategies for self.
Strategies for self
Preparing for the journey that is professional boundaries.
I remember early on in my psychiatric nurse training one of our lecturers being very clear with us "You are not here to get your own therapy, you will not use the patients for that purpose, you need therapy … you go pay for it". Few of us had any understanding about what she meant, however at various stages in our training and careers, most of us have had an experience that gave us that "ah ha" moment. This is what I love about the "ah ha" moments. We can have many of them at different times in our lives. Then one day, there is enough of the "ah ha's for a particular behaviour that we actually get the big AH HA. The one that really creates a new link in our neural-pathways. This lecturer also wanted us to be very clear about our reasons for becoming psychiatric nursing students – "get to know the real reason you are here" she would say to us. It took me about 10 years to get very clear on why I was there. Self-awareness and insight is not necessarily an easy process but in terms of professional boundaries, I believe they are essential.
Self-awareness
I believe that understanding, effectively developing and maintaining professional boundaries is difficult if we do not have an awareness about our own motivations for the things we say and how we act in relationship to other people. Boundaries are much easier when the professional is very present to each moment in relationship with the client. For me, this includes the preparation to be with the client, the time after an interaction ceases and staying present when writing up a progress report about the client.
I believe that it is important to keep checking in with self about how the relationship is progressing, being present with self is key to being present with another person.
Being present
Being present to the power – vulnerability dynamic in the professional relationship. Being present to one's own vulnerability in the relationship. Showing up in the relationship. Life Coach Alaric Hutchinson stated – Bravery is the choice to show up and listen to another person be it a loved one, or perceived foe, even when it is uncomfortable, painful or the last thing you want to do. I have identified a number of showing up questions that helps to guide the work I do with an individual:
Am I well enough to be at work today?

Am I being triggered in this relationship and if so what is /are the triggers?

What am I required to attend to in my responses to the other person?

What am I contributing to the energy between us?
Self-awareness, insight and being present top my list of strategies for self.
What follows is my go-to list of strategies for self:
Be clear on organisational/professional guidelines on boundaries – if you are not clear seek clarification
Trust that saying no and setting limits can assist the relationship. I hold close a statement from a participant who attended one of my workshops a couple of years ago "if we never say no, then the yeses become irrelevant" (repeat sentence), I like that
It is ok to pause, to take a breath before responding to the other person's questions/comments
Take time for self – ensure a balanced lifestyle
Dress for work – that means if there is no specific uniform for where you work – create your own work wardrobe – thus when you dress for work – you are mindful of the professional relationships you will be encountering
Seek counsel when unsure
Pay attention to the red flags – do not ignore them as though they are unimportant
Create a third space between work and home – time for you, just you, consider what you are leaving and what you are going to and prepare. I have put a link to the concept of the third space at the end of the written transcript for this episode which you can access from our website
OK, I am almost ready to put the car into gear and move to the next billboard, however, before I do, take some time to consider the strategies you currently have in place for you. Are there some on the list you had not thought about before that you could integrate into the work you do currently and in the future? Note them down.
Participants I see are always keen to have specific scripts that they can use when developing confidence in their professional relationships, especially when setting boundaries. I try not to be prescriptive in the work I do with them. I encourage each person to develop their own scripts that they will feel comfortable using. Like learning to drive a car, it can take many attempts before they feel comfortable and confident using new boundary scripts. Like learning to drive the car – sometimes the words will come out in a splutter, too fast, or too slow. It takes time, it takes practice to develop a new set of responses to the conversations we have with other people. As we sit at this billboard for self strategies here are some suggestions I offer re scripts:
When setting and maintaining boundaries – keep what you are saying short – no more than five words – pause.
Allow time so that what you have said reaches the other person. At all times hold great respect and dignity for the other person. Avoid what I call "a storytelling rationalisation" for the boundary, for the limit setting. Too much information and you will lose the importance of setting the boundary. Time and time again in workshops when we role-play with individuals to change their script they quickly become aware of the power of keeping to the purpose, keeping sentences short. It takes time, it takes practice, to change habits of a lifetime.
Thinking about the scenario at the beginning of this episode – boundary setting is definably easier when we have boundaries in place from that first meeting. What is important in this scenario is that the person herself wants to change the dynamic. Changing patterns of behaviour with customers is harder when an employee is directed by a supervisor, employer, or regulatory body to make changes. That is why having self-awareness and insight enables changes to be more congruent for the person. In workshops, I talk about the need to recalibrate the relationship with the customer and to do that effectively we need to recalibrate our relationship with ourself. Recalibrate to change the way you do or think about something (Cambridge Dictionary)
I imagine as I sit here with you in the car a few possibilities. As we sit here – you are the parent, and I am the employee in the child care centre. I am going to call you Belle, your child is called …Ross. The usual pattern is that you initiate the conversation with me when you arrive at the centre, you get in early with a question about my children. Today I am going to recalibrate our relationship. Today I am going to initiate the conversation with you and direct it.
"Hi, Belle great to see you. Hi Ross, lots of activities for you today. Belle is there anything you need to know about Ross and what we will be doing today?".
Or words to that effect. The focus is on the parent, on the child. Get in the driver's seat take charge. Drive with presence, drive with safety.
You say to me but what if Belle manages to get in and ask about your children what then?
Great question – we get in the driver's seat again.
"Belle, I am keen from now on that we focus on Ross being here and how we can make this a good experience for him and you" … and keep the focus on Ross.
You say to me but what if Belle persists in asking about your children.
I respond….. well she may well do, after all, that is what I have allowed to happen. I have set up the expectation in the relationship. With consistent new messaging, however, Belle will get it that the focus is on her son and we will both move on.
And so we too will move on – to the billboard on Strategies for a colleague. Let's go.
Strategies for a colleague
In many respects developing strategies for a colleague who is about to or has transgressed a boundary is more challenging than managing our own boundaries. The very act of approaching a colleague about a transgression can create much stress and distress for many people. If a person comes from a family which had open communication and family members were celebrated for bringing forward concerns then it could be easier to approach colleagues with concerns. Similarly, if workplaces have open and transparent cultures that encourage employees to approach one another – then that permission can assist individuals to approach a colleague with great ease.
Examples of Intrapsychic questions which can emerge for a person who wants to approach a colleague to discuss a potential or actual transgression they have witnessed include:
What do I do?
What do I say?
What if I have it all wrong?
What if my colleague gets angry?
What right do I have to say anything?
For a start, no one wants to be a dobber – right? Not sure what a dobber is – well according to the Collins Dictionary it is Australian slang for an informant or traitor. I have worked with many professionals who have not wished to report unprofessional and unethical behaviour of a colleague because they did not want to be viewed as a dobber. This intensifies in workplaces where there has been perceived punishment for employees who have raised concerns or reported a colleagues behaviour. For many the fear of ostracism and being made a scapegoat for reporting a colleague is stronger than making that courageous move, to put a boundary in place.
What if we changed the intrapsychic narrative to say something different for example:
I am doing this to support a colleague.
The client requires me to be an advocate for them
This is my duty of care
I would want a colleague to let me know
My profession requires me to do this
The question of what to actually say to a colleague can also create turmoil for some individuals. In workshops, I talk about being curious with a colleague. If you approach with curiosity in tone of voice and words – then you may wake up a curiosity in your colleague. A curiosity about their behaviour, a curiosity about their intentions, a curiosity to ask further questions about what has been observed/heard. There are many folks I have seen who had been reported for boundary transgressions who had just not realised that their behaviour had been transgressions. No colleague approached them, no colleague gently challenged them, no colleague said: "I am concerned for you". Post the event – they wish a colleague had approached them. They rationalised that because nothing had been said then there was no problem with their actions and they kept going. So many times professionals have said to me "I wish someone had told me that what I was doing was not ok". "I didn't know that what I was doing was a transgression, colleagues saw me and said nothing".
In previous episodes, I have slowly been teasing out the experience I had with a female patient when I put my body between her and a wall. In the episode on the boundary framework, I discussed Categories of Concern one of those being the giving and receiving of gifts. Well over many weeks I received different hand made gifts from her. She was an artist and I considered her work exquisite and beautiful. At no time in my receiving of a gift – did a colleague say to me – "watch out", or "what are you doing" or "you know receiving gifts is not ok". Perhaps when that relationship was in play in the 1980s when we were not so aware of boundaries – receiving gifts was no big deal. I suspect, however – if a colleague had been curious with me and wondered aloud with me what was occurring in the relationship, I may also have got more "present" about what was happening for me intrapsychically in the relationship. Perhaps I had not reached that 10-year mark of self-knowing for me.
Now many organisations do have policies and or guidelines in place about giving and receiving gifts and this is good. It has become very clear to me over my years of doing boundary work if there are no clear policies or guidelines in place – staff will make up their own guidelines based on their own moral compass, based on their own sense of right and wrong. Familial and cultural patterns that they have experienced.
What follows are some suggested statements that could be made to a colleague. A statement made with a curious tone of voice. A tone of interest rather than judgement or assumption. A tone that invites curiosity from the colleague. A tone that wakes them up to someone being genuinely present with them
I am showing up for you as my colleague,
I am curious about what you just said/did with that client
I have never seen or heard you do that previously. I am curious
When you were with that client I heard you say to them "yes I am your friend" I am wondering ….
Strategies for approaching/supporting colleagues are enhanced in organisations which support and encourage staff to challenge one another about boundaries. The following are other strategies that can enhance a more cohesive approach to boundaries.
Teamwork – that works and that requires good engagement between all members of the team
Consistent approaches from all team members. I encourage robust discussions away from clients to examine and explore approaches to care, however front of office all team members must be consistent in the work they do with clients. When one member has different boundaries and approach that challenges boundaries of their colleagues – then that is a red flag – something is different here. Clients will pick this up. Clients will behave in different ways with different staff
Checking in with one another – being clear on the purpose for the day
Being courageous to name a behaviour – use the language of boundaries – rather than talking about "feeling that a transgression has occurred" use the language of definitions, use the boundary framework as a guide, name the categories of concern that have been triggered. The foundation stones of boundaries are there to guide you – use them thoughtfully.
Never assume that the data you have is a boundary transgression – that is why it is so important to check in with your colleague – her their experience and understanding of their experience. Work together for a solution
if for whatever reason there is a reluctance in your colleague to acknowledge/address a boundary transgression then in most organisations it will be necessary to escalate up
Always report and inform your colleague that you will be ding that. Report in writing, report verbally.
We are just about to move onto the third billboard – Organisational Strategies and before we do I want to clarify that when approaching and or reporting a potential or actual boundary transgression
in a colleague ensure that you follow your organisations policy and guidelines on same.
Organisational Strategies
I trust that as we drive toward Organisational Strategies that you have been developing a list based on the previous two billboards. In order to ensure individual and collegial boundaries are in place, it is imperative that organisations have informative and perhaps even instructive policies and guidelines in place.
When exploring organisational strategies it is important to understand the ways in which organisational culture can both challenge and complement professional boundaries. A fantastic TED talk that I share with many participants is that by Brooke Deterline. In her presentation, Brooke invites employees in organisations to become aware of patterns of unethical behaviour in the workplace culture and then to develop creative ways of challenging the cultural norm. Inspiring.
Yes, I absolutely accept that challenging the cultural norm does come with risks. For some those risks can be high, including the potential to lose one's employment. However in my experience working with participants on boundary issues – not challenging unethical or unprofessional practices comes at too high a cost including challenges to one's integrity and one's sense of self-worth. Challenges to the purpose of one's being. Other workplace factors that can influence professional transgressions towards clients and indeed collegially include; shame and blame cultures, vicarious trauma, workplace bullying and moral distress. I will discuss most of these in more detail in part two of our boundary seres, yes stay tuned more on that at the end of this episode.
So what strategies can organisations have in place to ensure staff, customers and the organisation … kept safe boundaries.
First and foremost it is necessary to have clear policies and guidelines on professional boundaries. Inclusion of information about the five foundation stones provides staff with good information to assist them.
Ensure role modelling of boundaries through all levels from CEO's, Managers, team leaders and …
Role modelling collegially and with customers. Mixed messages of saying one thing and role modelling something different creates boundary disturbances and trust is eroded – eroded within the organisation and experienced by customers.
Good education/training on boundaries for all staff. It is clear at the end of one-day workshops that I conduct that participants want more. In one day they are appreciative of what they have learnt and they are hungry for more. Hungry for more information and skills on boundaries. They are awakened to the importance of boundaries. They are excited about what they can do to change their own behaviour and to return to their units, their teams, their organisations to implement changes. I see the benefits in yearly refreshers. As I said in an earlier episode developing professional boundaries skills takes time and practice. Lots of practice.
I encourage teams to use the workbooks I have developed as conversation points. I invite them – next time you are together as a group – choose a page, explore the questions posed together – are you on the same page (in the workbook, but also in terms of role modelling boundaries to clients). Yarn, discuss, agree, disagree, yarn more.
It is also beneficial that staff have easy access to Employee Assistance Programs as a safe and confidential place that they can go to for counselling and support when they identify a need for themselves or a colleague.
I believe that organisations have a Duty of Care to their staff to ensure that they have regular breaks, over the course of a shift. That when employees leave work at the end of a shift – they leave work. Phones turned off, no expectations that they will do work – especially if they are not being paid to do work. To enhance professional boundaries – employees need a break from their work – when work comes home at night with them they are not having a break. A line has been transgressed.
When organisations transgress lines with their staff – it is a powerful message that is delivered.
A more powerful message would be – we value who you are, we celebrate that you have time away from work for you, for your family.
Well that us just about the end of this journey. The end of part one of this podcast series on professional boundaries. I have enjoyed sharing this podcast series with you. I am excited to prepare for part two. I have continued to learn about boundaries with each episode I have written. What a privilege for me that you have travelled with me.
As I warm up to thinking about part two I have already identified specific themes I want to cover. At this point the
As I warm up to part two of this podcast series I have identified a number of themes that I want to cover – so far these include:
Collegial boundaries and in that episode I will explore further workplace bullying, moral distress and compassion fatigue
Attachment and boundaries
Understanding the limbic system to assist us in boundaries
Shame and boundaries – understanding the connection
Isolated practitioners / working in private practice – other boundary challenges to consider
I and my team look forward to producing part two for you.
This podcast series has been written by myself, Wendy McIntosh. A big thank you to family and colleagues who hear each podcast before it is released and who provide valuable editing feedback. Thank you to Nikki Fryn, my internet guru who has done the production for these podcasts. As I said earlier I would love to hear from you our listeners any questions, scenarios, reflections that you want to be discussed as part of a podcast session. There is still much to learn and each question and scenario posed provides opportunities to expand learning about professional boundaries. My email address is wendy@davaar.com.au, you can also contact me through our social media of twitter and installer. I would be delighted for podcasts to be as meaningful as possible to all who listen. So join with me. You can access our podcasts through a number of sources including our website davaar.com.au/pbpodcast
The spelling for Davaar is D for Discussion, A for awareness, V for Visceral, A for Action, A for Alert, R for Red flags.
Thank you for listening, let's meet again in part two where we uncover, explore and discuss more professional boundary ideas.