Mental Illness in the Workplace

This two day workshop explores concepts integral to understanding mental illness especially in relation to supporting colleagues in the workplace. Mental illness affects 1:4 persons in the community and as such everyone is likely to be affected by it in some way.
Despite the prevalence of mental illness, stigma and shame continue to negatively impact a)individuals seeking support in the workplace, and b) support being offered to colleagues who experience a mental illness.
This workshop provides a place for participants to discuss and explore creating & developing a workplace culture that allows dialogue about mental illness. A major focus is supporting colleagues in the workplace, so it is recommended to those working in Management, Supervisory and Human Resource roles. Looking after the self enables us to support colleagues and/or clients who experience mental illness.
Objectives:
By attending this workshop, participants should feel more comfortable and competent to:
encourage discussion surrounding stigma of mental illness and how to address stigma in the workplace
expand upon and deepen understanding surrounding common mental illnesses such as depression & anxiety
supporting colleagues who are suicidal (distinguishing when it is necessary to talk and listen and when it is necessary to act)
highlight the importance of appropriate use of language when discussing mental health concerns (with an emphasis on assisting colleagues to bring their issue or concern forward, and to recognise mental health concerns of clients / residents)
discuss the importance of maintaining a professional role whilst engaging with staff members. Specifically maintaining clear boundaries when issues around transference and duty of care may emerge in relation to mental health concerns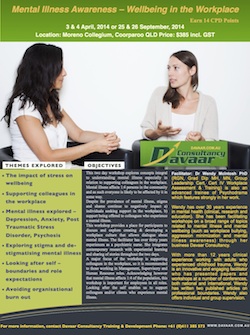 Click on the image to download a PDF flyer with more information.
To register for a workshop, download our registration form at the foot of this page, check our Calendar page, and send us your completed form with payment to the address listed on the form.