Solution Focused Approach in the Work we do – Group
It can be easy and seductive to focus on the problems, difficulties, challenges and issues that client's and staff may present to organizations. This two day workshop shifts the focus from problems to solutions. Using a number of interventions from a solution focused approach and psychodrama, participants will be invited to experience the benefits of working with people through a solution focused lens.
Participants will be given numerous opportunities to practice the interventions presented.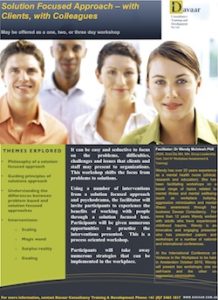 Please click on the image to download a PDF flyer with more information.
To register for a group, download the registration form from the foot of this page, check our calendar, and send us your completed form with payment to the address listed.