1st May 2020: Wendy is now delivering virtual workshops via Zoom. Scroll down to see our schedule, or sign up for our newsletters to be notified of workshops.
Meanwhile, our various online training courses always available to complete at your own pace.
Davaar offers workshops, groups, online training, professional supervision, tailor-made training and webinars to health Professionals, Police, Teachers, and all people working with people. To see details of our online training, select 'Training' from the navigation menu at the top of any page. All Davaar training is eligible for CPDs. To read further information about an event, click on the title of the item from this event calendar.
Sep
2
Wed
2020
Zoom: Professional Boundaries & Working with Clients Diagnosed with BPD

@ Zoom Event - meeting ID sent via email
Sep 2 @ 09:00 – 16:30
VIA ZOOM: Professional Boundaries & Working with Clients Diagnosed with BPD Live Workshop.
Brisbane time: 0900-1230hrs (incl break); 1315-1630hrs (incl break); Lunch 1230-1315hrs 
Professional Boundaries require us to hold a line in every situation, calling on us to be present & creative in each circumstance. During this one day workshop, the facilitator will discuss and explore with you the "foundation stones" of professional boundaries with a specific focus on clients with Borderline Personality Disorder. In this workshop, you will be invited to reflect on the professional relationships you have with clients and to ask and answer the question " am I working in the zone of helpfulness with this client".
Working with clients diagnosed with Borderline Personality Disorder can be rewarding, challenging and frustrating. Labile moods, impulsive and risky actions and, at times self-harm behaviour can offer many complexities to the therapeutic encounter. Using a number of vignettes to explore the transference/counter-transference issues that may surface in the therapeutic encounter, participants will gain greater insights into the roles they demonstrate in reaction or response to the roles demonstrated by the individual (and vice versa) all through the lens of professional boundaries.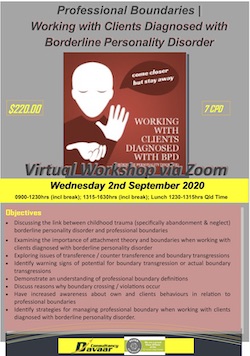 Objectives
Discussing the link between childhood trauma (specifically abandonment & neglect) Borderline Personality Disorder and professional boundaries
Examining the importance of attachment theory and boundaries when working with clients diagnosed with Borderline Personality Disorder
Exploring issues of transference/countertransference and boundary transgressions
Identify warning signs of potential for boundary transgression or actual boundary transgressions
Demonstrate an understanding of professional boundary definitions
Discuss reasons why boundary-crossings/violations occur
Have increased awareness about own and clients behaviours in relation to professional boundaries
Identify strategies for managing professional boundary when working with clients diagnosed with Borderline Personality Disorder.
Click the image to download a registration and information form.
Some comments we've heard from prior participants in this workshop:
"…thank you for running this course, it was absolutely fabulous. I've been in my profession for 26 years and it's such a pleasure to engage with something a little bit different. I recognise that Wendy's style of teaching and engaging is also a little bit different but I found it fresh, challenging and have taken things away with me. It was worth every penny. Thank you also for the links to webinars which I will be taking a look at – I'm hooked!"
"I'm so glad I said yes to this course and I will be looking with interest at future CPD with yourselves."
"The workshop was very interesting and provided insight towards problem solving and contingencies to consider in respect of boundaries and professional practices. Overall the workshop was very well facilitated to maximise participation by attendees to actually address personal experiences and to better understand the necessity and concept of professional boundaries".
"Brace yourself – you'll uncover things about yourself, your role and how you feel in the best possible way".
Use the download link to read further about this workshop and to register and pay.