Spontaneity & Creativity working in Mental Health
This series of four meetings will assist clinicians working in mental health to explore the work they do, using creativity in action in a supportive learning environment. Each week participants will be invited to reflect on moments they have experienced with clients where they have felt joyful, conflicted, stunted, frustrated, satisfied, heartened, disheartened, isolated or connected.
This group will help empower the practitioner to be more psychologically available, resulting in more satisfying and effective interactions for the practitioner and client/colleague.
A number of interventions from psychodrama including sculpturing, role training, role reversal, mirroring and doubling will be used to awaken and strengthen creative and spontaneous role responses to challenging relationships and situations in mental health. The facilitator will also be interested in integrating some singing and creative writing into the work. Each session will build on the previous one. Participants will be encouraged to reflect on the impact they make in the workplace and to notice what happens when they create changes in their interactions with others.
Objectives:
to build the role of spontaneous practitioner
to strengthen professional identity and purpose
to reflect on significant moments in the therapeutic encounter
to understand the influences that affect decision making in the moment of an interaction with a client / colleague
Who should attend: Clinicians working in Mental Health, Nurses, Psychologists, Social Workers, OTs & Medical staff.
Jacob Moreno's operational definition of spontaneity: Responding with some degree of adequacy to a new situation or with some degree of novelty to an old situation. He further added: "Mental healing processes require spontaneity in order to be effective." Moreno – Psychodrama The First Volume (1946:x11)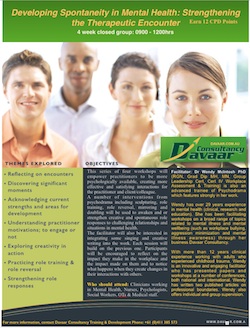 Click on the image to download a PDF flyer with more information.
To register for a workshop, download our registration form, check our Calendar page, and send us your completed form with payment to the address listed.