Avoiding the Chaos – Working with Clients Diagnosed with Borderline Personality Disorder
"Just because our clients are in chaos does not mean that we have to be in chaos."
This workshop explores working with individuals diagnosed with Borderline Personality Disorder through the lens of role theory. Participants will be given many opportunities to practice a number of process-oriented and action based interventions to assist working with individuals spontaneously and creatively.
Working with clients diagnosed with BPD can be rewarding, challenging and frustrating.  Labile moods, impulsive and risky actions and, at times self-harm behaviour can offer complexities to the therapeutic encounter. Using a number of vignettes to explore the transference / counter-transference issues that may surface in the therapeutic encounter, participants will gain greater insights into the roles they demonstrate in reaction or response to the roles demonstrated by the individual (and vice versa).
Feedback from prior participants:
"Very enjoyable – a serious topic tackled with humour and professionalism in equal measure"
"…useful, thought-provoking and stimulating"
"inspires me to be more curious and to investigate"
"I thoroughly enjoyed the workshop and gained many insights"
"This workshop left me with a feeling that I have gained new learnings and exposure to different methods"
"I really enjoyed being challenged personally and professionally"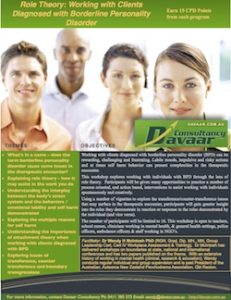 Click on the image to download a PDF file about this workshop.
To register for a workshop, download this registration form from the foot of this page, check our calendar, and send us your completed form with payment to the address listed.