Workshops, Professional Supervision, & Groups
Davaar offers workshops, groups, online training, professional supervision, tailor-made training and Webinars to Health Professionals, Police, Teachers, and all people working with people. To see details of our online trainings, select 'Training' from the navigation menu at the top of any page. All online trainings are eligible for CPDs.
See dates and details here in our Event Calendar. Use the toolbar to select 'Month' 'Day', 'Week' or 'Agenda', or 'Posterboard' views to see the events in a format you may find easier to view, To read further information about an event, click on the title of the item from this event calendar.
At the bottom of each page you'll find links to our location and registration form.
May
2
Thu
2019
BUNDABERG-Professional Boundaries (2-day)

@ School of Arts
May 2 @ 08:30 – May 3 @ 16:30
BUNDABERG: Holding the Line – Safe Professional Boundaries with Clients, with Colleagues.
During this two-day workshop, the facilitator will discuss and explore with you the "foundation stones" of professional boundaries. Using a number of actual case scenarios you'll experience the complexities of professional boundaries whilst appreciating the ease with which transgressions occur. Through exploring the professional boundary framework you will be able to experience the continuum of over- and under-involvement.
The workshop provides a discussion and experiential space in which you can identify and practice a range of strategies to assist you to develop and maintain boundaries in your professional role. This workshop is open to anyone working in people related services including health, education, NDIS, police, council, and NGO organisations.
Safe Professional Boundaries require us to hold an appropriate line in every situation, calling on us to be present & creative in our professional roles.  It is essential that staff working in people-related positions appreciate and understand the complexities of safe professional boundaries.
We'll explore various themes which help to deepen knowledge and skills in working safely, and with care. Psychodrama will be used to deepen the participant's experiential learning.
This workshop attracts 13 CPDs.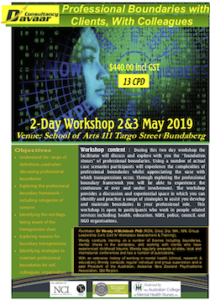 This workshop is endorsed by:


To get more information and to register for this workshop, Download a .pdf file with more details about this workshop by clicking on the image, and send us your completed form with payment to the address listed.
Feedback from prior participants:
"

I just wanted to say thank you for running this course, it was absolutely fabulous. I've been in my profession for 26 years and it's such a pleasure to engage with something a little bit different. I recognise that Wendy's 

style of teaching and engaging is also a little bit different but I found it fresh, challenging and have taken things away with me. It was worth every penny. Thank you also for the links to webinars which I will be taking a look at – I'm hooked!"
"I'm so glad I said yes to this course and I will be looking with interest at future CPD with yourselves"
"

The

workshop

w

as

v

ery

interesting

and

pr

o

vided

insight

to

w

ards

problem

solving

and

contingencies

to 

consider

in

respect

of boundaries

and

professional

p

r

actices.

O

v

e

r

all

the

workshop

w

as

v

ery

well 

facilitated

to

maximise

participation

b

y

attendees

to actually

address personal

experiences

and

to

better

understand

 

the

necessi

t

y

and

concept

of

professional boundaries

"

"Brace yourself – you'll uncover things about yourself, your role and how you feel in the best possible way"
To register for this workshop, download our registration form, and send us your completed form with payment to the address listed on the form. 
Oct
16
Wed
2019
ROMA-Looking After Ourselves with Tenderness (1 Day Workshop)

@ Training & Development Room, Roma Hospital
Oct 16 @ 08:30 – 16:30
ROMA: Looking After Ourselves with Tenderness – 1 Day Workshop 
Compassion fatigue is real and can affect our ability to be effective in our work with people in need of care. It can also cause us to want to withdraw from the very people we are working to support. This workshop will focus on ways to look after ourselves as we provide care for the clients we see.
Self-care and professional boundaries are important practices we can use to reduce the risk of this type of burnout.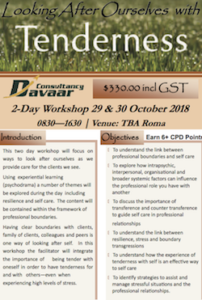 Using experiential learning (psychodrama) a number of themes will be explored during the day including resilience and self-care. The content will be contained within the framework of professional boundaries.
Having clear boundaries with clients, family of clients, colleagues, and peers is one way of looking after self. In this workshop, the facilitator will integrate the importance of being tender with oneself in order to have tenderness for and with others—even when experiencing high levels of stress.
During this workshop our objectives will be:
To understand the link between professional boundaries and self-care
To explore how intrapsychic, interpersonal, organisational and broader systemic factors can influence the professional role you have with another
To discuss the importance of transference and counter-transference to guide self-care in professional relationships
To understand the link between resilience, stress and boundary transgressions
To understand how the experience of tenderness with self is an effective way to self-care
To identify strategies to assist and manage stressful situations and professional relationships.
6.5 CPD available for attendance where applicable.
Click the image to download details and registration form.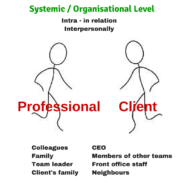 Professional Boundaries and Cultural Bias Sometimes the obvious connections slip to the edge of my consciousness. I had not made a specific link between professional boundaries and cultural bias until a couple of weeks ago. I was invited to facilitate a seminar for Interpreters on the theme of Cultural Bias. As I was researching content for the seminar, and more specifically, from the discussions during the seminar, light bulbs started going off in my brain. Neuroscientists would say it was the sparking of my neurons – however I like the...
read more