Davaar offers workshops, groups, online training, professional supervision, tailor-made training and Webinars to Health Professionals, Police, Teachers, and all people working with people. To see details of our online training, select 'Training' from the navigation menu at the top of any page. All Davaar training is eligible for CPDs. To read further information about an event, click on the title of the item from this event calendar.
Nov
7
Thu
2019
GLADSTONE: Trauma – Impact on Self, Family, Community, Health Prof's & Staff (2-Day)

@ Gladstone Palms Motor Inn
Nov 7 @ 08:30 – Nov 8 @ 16:30
BRISBANE: Trauma – Impact on Self, Family, Community, Health Professionals & Support Staff
Two-Day Workshop – Contemporary research reports the co-morbid cost of childhood trauma – especially sexual abuse, neglect, and cruelty which can result in the development of major mental illnesses and medical problems including cardiac, gastrointestinal and diabetes.
Working with, or caring for, individuals who are experiencing short or long-term consequences of trauma can have a significant impact on clinicians, support workers, family members and colleagues.SMLTrauma
When professional boundaries are not in place, the risk of being drawn into the lived experience of an individual who has/is experiencing trauma increases. Being drawn into the trauma psychologically, emotionally or physically can result in the experience of compassion fatigue and/or vicarious trauma. Both of which can have a negative impact on the other.
During this workshop, Dr. McIntosh will use a gentle and tender experiential approach enabling participants to learn about trauma and the impact on individuals – whilst developing strategies for self-care in the learning created. Earn 13 CPD Points.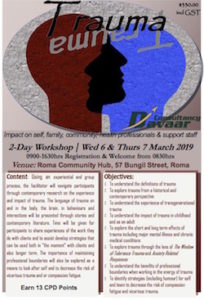 Use the link above to download an information and registration form, or click on the image.
Objectives of this workshop:
To understand the definitions of trauma
To explore trauma from a historical and contemporary perspective
To understand the experience of transgenerational trauma
To understand the impact of trauma in childhood and as an adult
To explore the short and long-term effects of trauma including major mental illness and chronic medical conditions
To explore trauma through the lens of The Window of Tolerance Trauma and Anxiety Related Responses
To understand the benefits of professional boundaries when working in the energy of trauma
To identify strategies (including humour) for self and team to decrease the risk of compassion fatigue and vicarious trauma.
Nov
20
Wed
2019
BRISBANE-Professional Boundaries (2-day)

@ Training Room
Nov 20 @ 08:30 – Nov 21 @ 16:00
BRISBANE: Professional Boundaries: With Clients, with Colleagues.
Safe Professional Boundaries require us to hold the line in every situation, calling on us to be present & creative in each circumstance.  It is paramount for staff working in people-related industries to appreciate and understand the complexities of safe professional boundaries. We'll explore various themes which help to deepen knowledge and skills in working safely, and with care. Psychodrama will be used to deepen participants experiential learning.
Day one focuses on the client – staff relationship.
Day two on collegial relationships.
Using a professional boundary framework the facilitator will explore boundary crossings and violations in the continuum of over- and under- involvement. Psychodrama will be used to deepen participants experiential learning, helping them gain awareness and insight. The use of psychodrama also speeds up the integration of material.
This workshop attracts 13 CPDs.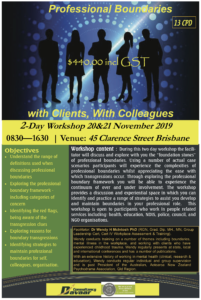 This workshop is endorsed by:


To get more information and to register for this workshop, Download a .pdf file with more details about this workshop by clicking on the image, and send us your completed form with payment to the address listed.
Feedback from prior participants:
"…my concepts about boundaries were indeed strengthened"
"The knowledge I have gained today will give me more confidence in my workplace as a team leader, educator and mentor"
"Under and over involvement – so relevant in my workplace"
"…role play set out your concerns, different sides"
"…interpersonal relationships within the team environment and how to be a better team leader"
"It was the most rewarding training that I have been involved in for a long time. I can take away strategies to make a real difference to demonstrate safe boundaries to other staff and for my own professional health. Very engaging positive experience"
To register for this workshop, download our registration form, and send us your completed form with payment to the address listed on the form.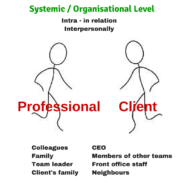 Professional Boundaries and Cultural Bias Sometimes the obvious connections slip to the edge of my consciousness. I had not made a specific link between professional boundaries and cultural bias until a couple of weeks ago. I was invited to facilitate a seminar for Interpreters on the theme of Cultural Bias. As I was researching content for the seminar, and more specifically, from the discussions during the seminar, light bulbs started going off in my brain. Neuroscientists would say it was the sparking of my neurons – however I like the...
read more