Davaar offers workshops, groups, online training, professional supervision, tailor-made training and Webinars to Health Professionals, Police, Teachers, and all people working with people. To see details of our online training, select 'Training' from the navigation menu at the top of any page. All Davaar training is eligible for CPDs. To read further information about an event, click on the title of the item from this event calendar.
Jul
24
Wed
2019
BRISBANE-…and that's enough now. (1 Day Workshop)

@ Psychodrama Australia - Training Room
Jul 24 @ 08:30 – 16:30
Bullying in the Workplace impacts us in so many ways and is entirely unacceptable.
Workplace bullying is a serious workplace health and safety concern, often with significant short and long term effects leaving individuals experiencing anxiety, depression, post-traumatic stress disorder and a range of medical issues.
Workplace bullying is costly for the individual, for the team, for the organisation, for the profession, and for the community. In this one day workshop, the facilitator will take you through body exercises to assist you to manage yourself in those moments that take your breath away.
This new workshop is offered for the first time in Brisbane on 24th July, 2019 and will include discussion of a number of models.
Feedback from some of our workshop participants:
"…an opportunity to reflect on your actions, why you are drawn to certain behaviours and helps to realign your intentions" 
"The course was great, very informative, and presented in an enlivening way, doing the role plays and other action methods makes the work integrated into your being. I have found myself changing many things in my practice since attending" 
"Compassion fatigue & vicarious trauma. Being an empathetic person, it can be all too easy to get caught in another person's emotions" 
"Boundaries; learning how to check yourself; how to let go of special clients"
Objectives
Understand the range of definitions used re workplace bullying
Discuss the behaviours of workplace bullying
Explore the impact of workplace bullying – emotionally, psychologically, physically
Understand the way in which the body manages the experience of workplace bullying
Explore the impact of bullying on collegial and familial relationships
Discuss ways in which professional Code of Ethics and Code of Conduct can be used to give voice to unacceptable behaviours
Identify a range of body strategies that can be used to assist with managing the experience of bullying in the moment and beyond.
Rehearse how to find a professional voice challenging workplace bullying
Participants will leave the workshop with a number of strategies they can implement for themselves, and for the organisation for which they work.
Click on the image to download a PDF file with full information and registration form.
Oct
16
Wed
2019
ROMA-Looking After Ourselves with Tenderness (1 Day Workshop)

@ Training & Development Room, Roma Hospital
Oct 16 @ 08:30 – 16:30
ROMA: Looking After Ourselves with Tenderness – 1 Day Workshop 
Compassion fatigue is real and can affect our ability to be effective in our work with people in need of care. It can also cause us to want to withdraw from the very people we are working to support. This workshop will focus on ways to look after ourselves as we provide care for the clients we see.
Self-care and professional boundaries are important practices we can use to reduce the risk of this type of burnout.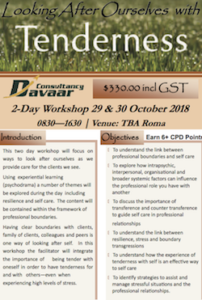 Using experiential learning (psychodrama) a number of themes will be explored during the day including resilience and self-care. The content will be contained within the framework of professional boundaries.
Having clear boundaries with clients, family of clients, colleagues, and peers is one way of looking after self. In this workshop, the facilitator will integrate the importance of being tender with oneself in order to have tenderness for and with others—even when experiencing high levels of stress.
During this workshop our objectives will be:
To understand the link between professional boundaries and self-care
To explore how intrapsychic, interpersonal, organisational and broader systemic factors can influence the professional role you have with another
To discuss the importance of transference and counter-transference to guide self-care in professional relationships
To understand the link between resilience, stress and boundary transgressions
To understand how the experience of tenderness with self is an effective way to self-care
To identify strategies to assist and manage stressful situations and professional relationships.
6.5 CPD available for attendance where applicable.
Click the image to download details and registration form.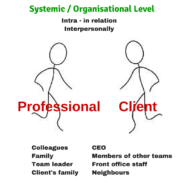 Professional Boundaries and Cultural Bias Sometimes the obvious connections slip to the edge of my consciousness. I had not made a specific link between professional boundaries and cultural bias until a couple of weeks ago. I was invited to facilitate a seminar for Interpreters on the theme of Cultural Bias. As I was researching content for the seminar, and more specifically, from the discussions during the seminar, light bulbs started going off in my brain. Neuroscientists would say it was the sparking of my neurons – however I like the...
read more