Workshops, Professional Supervision, & Groups
Davaar offers workshops, groups, online training, professional supervision, tailor-made training and Webinars to Health Professionals, Police, Teachers, and all people working with people. To see details of our online trainings, select 'Training' from the navigation menu at the top of any page. All online trainings are eligible for CPDs.
See dates and details here in our Event Calendar. Use the toolbar to select 'Month' 'Day', 'Week' or 'Agenda', or 'Posterboard' views to see the events in a format you may find easier to view, To read further information about an event, click on the title of the item from this event calendar.
At the bottom of each page you'll find links to our location and registration form.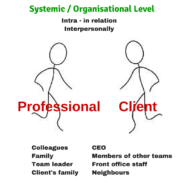 Professional Boundaries and Cultural Bias Sometimes the obvious connections slip to the edge of my consciousness. I had not made a specific link between professional boundaries and cultural bias until a couple of weeks ago. I was invited to facilitate a seminar for Interpreters on the theme of Cultural Bias. As I was researching content for the seminar, and more specifically, from the discussions during the seminar, light bulbs started going off in my brain. Neuroscientists would say it was the sparking of my neurons – however I like the...
read more