You Supporting You – Your Sentence, Your story, Your week
It is our great pleasure here at Davaar to provide this resource, You supporting You -Your sentence, your story, your week. A reflective writing process packaged in a free downloadable workbook.
Creating this resource grew out of the Covid-19 pandemic that has had such a significant impact on our world and peoples of the world.  What began as a social media exercise has developed into a soothing six-week daily personal reflection process.
The aim of this reflective process is to assist you as the writer to connect or perhaps reconnect with your strengths, your dreams or your purpose in life. To support more inspiration and deeper reflections we have included the mediums of images, music, stories and art to arouse the creative genius in each of us.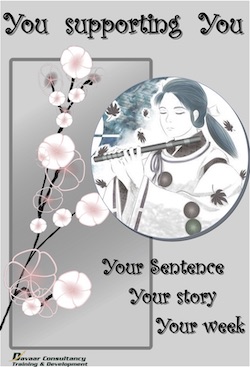 Daily reflections
For each day of the week, I have provided the beginning of a sentence to stimulate your ideas to complete the sentence in your own words. You can use the process in any way you wish. For example, it is not necessary to start at section one, you might be more inspired by books rather than pictures so you might be drawn to begin in section five.
We envisage that when you have completed all six sections (weeks) you may wish to go back to one or all the sections for another six weeks as other ideas for music, books, art or people who have inspired you emerge and gently tap you on the shoulder and whisper, write about me now, please. The process is infinitely repeatable and we hope will bring deeper insights and richer reflections with each round.
A big thank you to Debb Quinn at Davaar who has provided the beautiful images for this writing process. Debb's pictures have inspired me to be creative with my words and with the development of this resource.
We at Davaar would be honoured if you'd like to share this writing process with friends, colleagues and family, and we would be absolutely delighted if the process continues to be paid forward.
My heart to your heart – Dr Wendy H McIntosh, Davaar Consultancy
Please click on the cover to download your own copy to begin the reflection process.
If you'd like to receive our monthly newsletters with Davaar news and updates about our programs and courses, click the 'Subscribe' button.