Self-Directed, Online Boundaries Training – Safe Professional Boundaries
Online Boundaries Training – Course Structure 
Unit 1 – Overview, FAQ's & References
Unit 2 – Self Assessment & Historical Influences
Unit 3 – Definitions
Unit 4 – The Professional Boundary Framework
Unit 5 – Categories of Concern
Unit 6 – Stakeholders
Unit 7 – Cost
Unit 8 – Warning Signs
Unit 9 – Reasons for Boundary Transgressions
Unit 10 – What to Do – Strategies
Unit 11 – Organisational Responsibilities
Unit 12 – Revisiting Units 2-11 with Case Scenarios
Unit 13 – Working with Colleagues
Unit 14 – Revisiting Strategies
Unit 15 – Understanding the Transactions in the Roles
Assessment
Successful completion of this training and submitting final responses attracts 10 CNE/CPD.
To gain access, sign-up using the button below, and then click enroll. This will give you access the training through Paypal (no account required). The cost is AUD$220.00.
Use the button below to get details of the course structure, sign-up and to access the online boundaries training tool.
Terms and Conditions
Without limiting the rights under copyright, no part of this online boundaries training publication (including without limitation; the text, code, artwork, photography, images, music, audio or video material and audio-visual material in this training) may be reproduced, stored in or introduced into a database and retrieval system or transmitted in any form or any means (electronic, mechanical, photocopying, recording or otherwise) without the prior written permission of the copyright owners – Davaar Consultancy, Training and Development Pty. Ltd.  All rights reserved. By purchasing access to this training tool, you agree to these terms and conditions.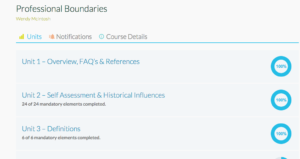 Click on the image or the button below to access the online boundaries training.