When:
Tuesday 25 September, 2018 @ 08:30 – Wednesday 26 September, 2018 @ 16:30
2018-09-25T08:30:00+10:00
2018-09-26T16:30:00+10:00
Where:
Training Room, Ipswich Hospice Care Inc
37 Chermside Rd
Eastern Heights QLD 4305
Australia

Avoiding the Chaos – Working with Clients Diagnosed with Borderline Personality Disorder (BPD)
Ipswich, SE Qld – This workshop explores working with individuals with Borderline Personality Disorder (BPD) through the lens of role theory, expanding understanding of how we respond to others based on their behaviours, and how they then respond to us. Working with clients diagnosed with BPD can be rewarding, challenging and often frustrating.
Labile moods, impulsive and risky actions and tendencies to self-harm can present difficulties in the therapeutic encounter. Using a number of a number of vignettes, we'll explore the transference/counter- transference issues that may surface in the therapeutic setting and discuss how best to work with them.
Participants will practice process-oriented, and action-based interventions to help them work with individuals more spontaneously and creatively.
The number of participants will be limited to 20.
This workshop is open to teachers, school nurses, clinicians working in mental health, & general health settings, police officers, ambulance officers & staff working in NGO's.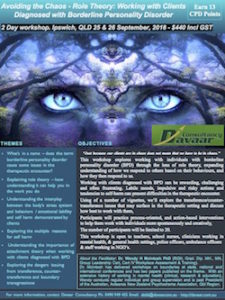 Feedback from prior participants
"Very useful to view things from a different perspective"
"Very enjoyable – a serious topic tackled with humour and professionalism in equal measure"
"…useful, thought-provoking, and stimulating"
"…inspires me to be more curious and to investigate"
"I thoroughly enjoyed the workshop and gained many insights"
"This workshop left me with a feeling that I have gained new learnings and exposure to different methods"
"I really enjoyed being challenged personally and professionally"
Registration Form and more details: Click the image to Download form
Location: Training Room, Ipswich Hospice Care Inc, 37 Chermside Road, Eastern Heights, Ipswich
Qld 4305
– Registration 0830